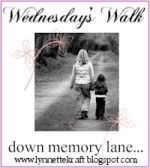 On Wednesdays I like to take a trip down memory lane along with many other people. If you would like to join in, or just read other peoples memories, click on the link and follow the directions!
Well, today I was going to write about one of my childhood memories, but after making a telephone call last night to my sister, I changed my mind. My post is still going to include some of my childhood, I'm jut going down a different path with them.
My Mum and Dad were married on my Mum's 18

th

birthday. My Dad came from a large family, 10 brothers and sisters. My Mum had 1 brother and 2 sisters. My brother and sister were born fairly close together and then there was a string of miscarriages. Eight to be exact. One little baby was stillborn and one little boy, David, lived a few short hours. Attitudes and thinking was a lot different back then, my Mum didn't get to see David before he died because he was

transferred

to a different hospital. She also didn't get to see or hold her stillborn baby. Like I said, attitudes and thinking were a lot different, this was in the 50s. My parents finally realized that another baby was not going to happen, that was, until they adopted me.
My brother and sister are 15 and 16 years older than me. Needless to say, I was quite spoiled growing up. I shared a bedroom with my sister. I tell my oldest son that it is a family tradition when I can see his frustration of sharing his room with his little brother - Joshua is 21, Samuel t is 3. I called Gayle, "Sissy". In fact, I was quite

devastated

when I found out that wasn't her real name, I think I was around 5. To me my sister was a fairy princess. My favorite photo of her is when she was all dressed up to go to a dance. I don't remember what type of dance, it was fairly formal I think. She was wearing a full length satin dress that she had made herself. Her hair was all done up and I thought she was beautiful. I still have a little toy tea set that Gayle bought me for Christmas one year.
I usually call me sister in Australia every 2 weeks or so. I missed calling this past weekend, so decided to call last night. Her husband answered the phone and told me that Gayle had been in hospital since Friday. He followed that with a, "I guess I should have called and told you." Gee, do ya think??? I called Gayle at the hospital and she sounded dreadful. Will call again tonight and hopefully she will be doing better. My Mum would always tell Gayle that when she died, it was up to Gayle to keep me up to date on all the family happenings, to keep in contact with me, to stay close to me. That is something that Gayle has taken very seriously. Because of the age difference, we weren't very close while I was growing up, but that has changed over the years since Mum and Dad died.
We are as different as night and day, but we love each other. Gayle loves angels and every Christmas I send her an angel figurine. I think I will send her an extra one this week.