My little boy, Samuel, loves trains. He is particularly fond of Thomas the Tank Engine. At the state fair last week we got to see a exhibit of model trains, old steam engines, etc..
It bought back memories from my childhood........so take a walk with me down memory lane.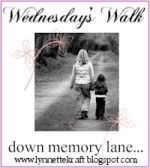 When I was in 3rd grade, our school participated in the 100

th

anniversary of passenger trains in Tasmania. I am not sure if that was exactly what the anniversary was, but it was something to do with trains! We all got to ride on a steam train from

Ulverstone

to

Launceston

. It was an all day event, and was terribly exciting because we missed out on school for a day! We each also received a commemorative gold coin.
As we chugged along I remember at each railway crossing there were people lined up to wave as we steamed on past. When we reached

Launceston

we walked a short distance to the city park to have a picnic lunch. It was a fun place. There were monkeys exhibited in this park, so that made it even more interesting. The monkeys are no longer there, but the park is still beautiful and a lot of fun.
The trip back home seemed to take longer and wasn't as exciting, but I think it was one of the best field trips I had during my school years. Ever since this adventure, I have always enjoyed travelling by train.
My next train trip was with my Mum. We had been to visit my Auntie Lyn I think. We travelled from

Burnie

to

Ulverstone

. When I was deemed old enough, my friends and I would catch the train from

Ulverstone

to

Devonport

. The train station was a very short walk to the movie theatre and it saved my parents considerable time allowing us to do this. My friends and I were very sad when the passenger train service ended. It just wasn't cost effective to keep it going.
One of my favorite things about visiting England was riding the trains. When I lived in Perth, Western Australia, I also made use of the train service - as well as the buses. One of the places we will visit when we go back to Australia in June, is the Don Railway. It is a train museum, but they give rides, and that is an experience and a memory that I want my little boy to have.
If you want to share other people's walk down memory lane, click on the link at the top of my post.
Sally-Ann