I have been extremely lax in keeping my blog updated these past weeks. No excuses, no real reason, except maybe the need to split myself in two on occasion to keep up with things. The main reason is, however, I am a great procrastinator! Anyway, I'm turning over a new leaf and starting off my new found resolve with posting on "Wednesday's Walk."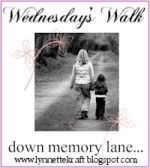 It's Wednesday, and time to go for another walk down memory lane.
If you would like to know more, click on the above link, join in, or just read other's contributions.
On April 1st, Jim and I celebrated our 23rd wedding anniversary! Yes, we are aware that our anniversary falls on April Fool's Day. No, we didn't plan it that way, it just happened to be the day that worked out for everyone!
My husband is from Rapid City, South Dakota, United States of America. I'm from Devonport, Tasmania, Australia. We met while serving a mission for our church in Perth, Western Australia. I could write a epic mini-series on the months leading up to our wedding, but today I am going to tell you about how Jim proposed to me.
Jim didn't give me flowers, candy or a ring. The "big question" wasn't written on a banner or in the sky by a skywriting airplane. There wasn't a big, elaborate set-up with a cast of thousands. It was much, much more romantic and thoughtful than all those things combined! Jim's marriage proposal was original, unique, one of a kind, and just for me.
BOOMERANG!!!
You may think this is a rather odd item to give someone that you hope will marry you. Maybe it is, but for us it was and is perfect. My boomerang has my initials engraved into the front of it. Not my maiden name initials, but married name initials.
Why a boomerang??
So I will always come back to him.
Sally-Ann