It's Wednesday, and time to go for another walk down memory lane.If you would like to know more, click on the link below, join in, or just read other's contributions.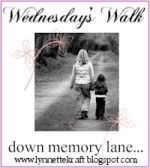 Well, I am extremely late with this post, so it is going to be my "Walk Down Memory Lane" today!!
The 21st March, 1992 was a very eventful day for our family. It is when Jessica was born - all 9lbs 8.8

ozs

of her!
This is one of my favorite photos - Jessica and her Dad.
The above photo, however, is my absolute favorite! Jessica was 2 and in her Easter dress.

Jessica is very talented musically. Here she is playing the violin in her middle school orchestra in 2005. They are performing at Epcot.
Jessica also plays the harp. She has been playing since 6th grade.

One of Jessica's favorite things to do is sleep - very normal for a teenager, I know! But I put this picture in to show off her favorite color -

RED!!

Her room is no longer red, we painted it last year and it is now blue and decorated with a Celtic theme. As part of her birthday present, Jessica and her brother (Joshua) went to see Celtic Women.
Jessica absolutely loves our trampoline. She doesn't always bounce, sometimes she just sits and reflects of life. Well, I'm not sure if she is reflecting on life, but she is sitting!
This photo was taken at one of the harp concerts that Jessica performed in. Jessica has very long and graceful fingers. She plays the violin, harp and piano beautifully. Jessica also played in a steel drum band at her elementary school for several years.
For Jessica's birthday this year we went to "Sweet Tomatoes" for dinner. Jessica also requested a day at the beach, so that is what we did!
All three kiddos out in the water.

Joshua and Sam
Jim


Jessica working very hard on a castle - battling against the tide.
Still working on it........


Meanwhile, the boys are playing a very interesting game of badminton.


Sam having fun in the water.
Joshua has been enlisted to battle the ever creeping tide!!
Samuel trying to decide whether to assist the big kids or to help the tide along in its destructive course. What do you think Samuel decided to do???


Our family loves spending time at the beach!
Sally-Ann