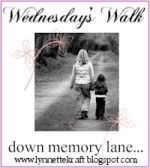 It's Wednesday, and time to go for another walk down memory lane.
If you would like to know more, click on the above link, join in, or just read other's contributions.
Today's memory is about something that we all miss at times.
No matter our age, gender, position in life.
It is something that we long for......crave........daydream about....
Today, my "Walk Down Memory Lane" is all about
A good night's sleep hasn't occurred for the adults in this house for such a long time, it is a very distant memory! When I was pregnant with Samuel, I had all the usual pregnancy things that caused me to wake in the night and toddle off to the bathroom. Then of course, Samuel finally arrived.......
The above photo is one of the very rare times Samuel actually slept in his own bed. The teddy bear was put there for the photo, but the "silky" was and is still the constant sleep companion for Samuel. He has to have it up against his cheek.
Probably for the first year of his life, Samuel slept in my arms. He did not like his cradle, he did not like his crib. He did like to sleep in Mummy's arms. I usually sat in our huge leather chair. We sang, we read books, we told stories, sometimes we dozed.
The few nights that Samuel actually slept through the night, in his own bed, I would wake-up every hour or so and go and check on him.
Now that Samuel is older, he does stay asleep many nights, but there are many nights that he will burrow in between Jim and I. He wraps his arms around my neck and sighs, "Sam's Mum".
Samuel does sleep, in fact he has a child's ability of falling asleep almost anywhere the mood strikes!