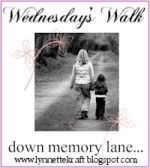 It's Wednesday, and time to go for another walk down memory lane.If you would like to know more, click on the link above, join in, or just read other's contributions.
In March of 1986, I packed everything I could fit into 2 very large suitcases and headed off to the great unknown. I was flying to Rapid City, South Dakota to meet Jim's family for the first time, get married.....moving thousands of miles from my home......my family.......my friends........everything I had ever known for the first 23 years of my life...........aaahhhhhhh........what was I thinking??
Me and my Mum at the airport in

Devonport

.
Don't you love 80's hair? I don't think I was even suffering from 80's hair, it was early in the morning, I think it was just a bad hair day!
My brother Graham, his wife Dianne, daughter Katrina, youngest son Anthony, son Jason - oldest son, Andrew isn't there.
My friend Andrea and her boyfriend (now hubby) Johnny.
Johnny doesn't usually go around dressed in grubby work clothes, but I do believe he was working at the airport at the time.
My Auntie Val, cousin-in-law Jeanette and Auntie Lyn
Before heading to South Dakota, I stayed a few days with friends in San Francisco.
Walking off the airplane in Rapid City was one of the scariest things I have ever done. I was hoping that it would just be Jim and his Mum and Dad. But, no, his entire family had made the trip to South Dakota to see Jim and to meet me. Jim had just returned home from serving a mission for our church.
I thought that my legs were going to give way on me!!!!
23 years later, we look a little different than the above photo!
In 3 weeks we will be getting on another airplane and going back to Australia for the first time in 12 years. I am very excited, but have the same butterflies that I had making that trip to the USA. Things change with each trip back, that is life, but this time we will notice the biggest changes of all.