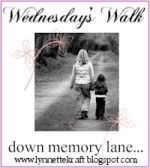 It's Wednesday, and time to go for another walk down memory lane.If you would like to know more, click on the link above, join in, or just read other's contributions.
This weeks Walk Down Memory Lane only goes back a year. Last year, my husband's brothers and sister and their families all headed to Rapid City, South Dakota to celebrate his parent's 50

th

Wedding Anniversary. Quite an accomplishment in this day and age!
Richard and Carolyn

Purdy
Their wedding day, June 4

th

, 1958
Cutting the cake
We held an open house for them on July 5

th

. This is the "sign-in" table in the foyer.
(left to right)
Brad, Michelle, Mom, Dad, Mike & Jim
This the cake that was made for the open house.
The cake topper is the original one from their wedding cake.
Tried to get the cake design as close to the original as possible, except there was gold frosting for the rosettes.
Towards the end of the evening we had them dance to "Who's Sorry Now?".
We found out that at the end of their wedding reception, the pianist played this song.
We had a great time in Rapid City. It is always wonderful to go back. Jim considers Rapid City "home" and we lived there for 4 years before moving to Tampa.
While there, we had to check out some for the tourist places!
Saw a deer/elk/not sure correct name......
Lots, and lots of bears!!!
Cute bear cubs
We visited Reptile Gardens. It sure had changed since we had last been there. Worth the visit, but not as "magical" as it was when we took the older kiddos.
In this photo, Sam and Joshua are pretending to be

prairie

dogs. I'm not sure if Sam wants to be a

prairie

dog!
Here is Jessica making friends with a

prairie

dog.
Quite a bit of time was spent looking through family photos.
Samuel is helping Grandpa play the

ukulele.
I think one of the favorite places to visit, for everyone, was Storybook Island.
Here we are waiting for a train.
Sam loved the Raggedy Ann and Andy house. I think big sister is hiding down behind the wall!!!
Samuel talking to the animals on Noah's ark
Bet you didn't know that Yogi and Boo Boo went to the Black Hills of South Dakota for a vacation did you?????
Jessica going on a magic carpet ride while eating a ice-cream cone.
Jessica wanted to go to Story Book Island every day for the ice-cream.
Samuel riding on the train with his cousins Zion and Keegan.
This is a 'Hickory Dickory Dock" slide.
Mount Rushmore.
Usually, you can walk on a trail up closer to the faces, but they were working on the mountain for July 4th fireworks display.
I couldn't scan the family portrait with eveyone - to big.
So, here is our family, minus Joshua. Joshua was the only grandchild not in attendance because he was serving a mission in Canada.
We had a wonderful time catching up with everyone. With everyone spread out over the USA it is hard to get together often. Minnesota, Texas, Utah, Florida and South Dakota. I hope we don't wait another 50 years to do this again!!!