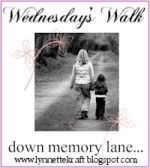 It's Wednesday, and time to go for another walk down memory lane.If you would like to know more, click on the link above, join in, or just read other's contributions.
On Mother's Day, Jessica and Sam helped Jim make dinner. Jessica is turning into a good cook, she enjoys helping in the kitchen. Samuel also has a fun time helping in the kitchen, he particularly likes to lick the beaters after making brownies!
Here Jessica is supervising the stabbing of baked potatoes.
Samuel enjoys stabbing the potatoes, but he much prefers to wash them. They get a very thorough washing when Samuel is in charge!!! So does the rest of the kitchen.
See the little tea set on the window ledge?? My sister gave me that when I was about 5.
Lately I've been thinking about cooking. When did I start to first enjoy cooking? What was the first thing I ever made? Well, the very first thing I remember cooking was in 7th grade. It was .......
BLANCMANGE
My 7th grade home economics teacher was Mrs. Allen. Everyone in the class made blancmange. We took in our molds from home to let it set in. I carefully carried it home, and my Dad dutifully ate it for dessert that night. I made it every night that week. My Dad ate it every night that week.
I love my Dad!
My Blancmange did not look like this.
or this..........
Probably looked more like this!!
After I tasted the blancmange, I never ate it again.....
I didn't make it again either......
I really love my Dad!
My Mum was an excellent cook. It wasn't always that way. I am not sure if it was just before she married my Dad, or shortly after, but they went to visit my Dad's grandmother - my great grandmother. She was practically blind, so she put her hands on my Mother's face and asked her if she was a good cook. She said that "All Johns women are good cooks!" My Mum wasn't a very good cook at that time, all she could make was steamed pudding. But, she learned. I have many of her handwritten cook books. The writing is quite difficult to read in places, but I treasure them.
I mentioned before that Samuel loves to lick the beaters after I have made brownies.
Yum, yum.
For those of you who may be sticklers for.......sticklers for........I don't know what!! Sticklers for all things "proper" for the lack of anything else coming to my mind!
You may not want to look at the below photograph.
But, when a boys gotta go, he's gotta go and he's not prepared to give up the beaters. The brownie mix tastes sooooo yummy.
Sally-Ann