Today is Monday, 21st March.
I don't feel like blogging.
Sometimes I need, no, want, no,
to mark a special day with a blog post.
I couldn't let this day go by without wishing my daughter,
A VERY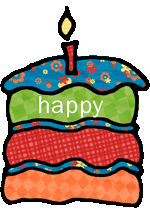 Can't believe that 19 years ago Jessica made her grand appearance to the world!
So, tonight for Family Home Evening, in celebration, we are going to
This is Jessica's favorite place to eat. She is a steak and potatoes kind of girl! Jessica also likes their Caesar Salad. If Jessica is particularly good today, we will tell the waiter that it is her birthday, order her a "Chocolate Thunder from Down Under" and have them sing her "Happy Birthday."
Jessica would absolutely love the attention of that!
Hee Hee, I know I am a evil Mum
What is life without a little excitement??
Especially
on your birthday!!
This year, Jessica requested that I make her a confetti birthday cake. I was happy to oblige. I made her one last year as well. This year's cake went off without a hitch........last year's cake?? Let's just say we had problems.
Sam says, "Blue!! Bad dog!!"
Mum says, "Blue??
Sam says, "Munch, munch, yum, yum!"
Mum says, "Frosting hides everything!"
Happy birthday to you!
Happy birthday to you!
Happy birthday dear Jessica!
Happy birthday to YOU!
Just in case inquiring minds would like to know.
Jessica received a rousing, borderline rowdy, rendition of "Happy Birthday" from the crew at Outback Steak House.
Yes, she was sufficiently embarrassed and red faced.
Our mission as parents was accomplished.