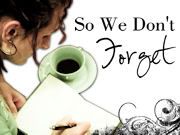 For Wednesday's "So we don't forget", Lynette has asked us to do the following -
"We're doing something a little different this week!
Sharing Main Dish Fall Recipes!
Soups, Casseroles...
Anything yummy we can eat for dinner!!!"
So, if you would like some great recipes, pop on over to Lynette's blog by clicking on the above link.
Because I have been blogging about our holiday in Australia, I will keep with that theme and share one of my favorite dishes.
Lamb and Walnut Casserole
Serves 4
Make this the day before serving for the best flavour.
This casserole freezes well so you might decide to double the quantity and freeze half.

Ingredients:
500g boned leg of lamb, cut in 2cm cubes
1 tablespoon flour
freshly ground pepper to taste
2 tablespoons butter
1 large onion, sliced
1 clove garlic, crushed
1 teaspoon curry powder
½ cup tomato puree (tomato sauce)
1 cup unsweetened pineapple juice
1 tablespoon vinegar (preferably balsamic)
1 tablespoon salt reduced soy sauce
1 tablespoon brown sugar
2 strips lemon peel
½ cup walnut pieces

Method:
Toss cubes of lamb in flour and season with pepper.
Heat butter in large frypan over medium heat, add lamb and brown well on all sides.
Add onion, garlic and curry powder. Reduce heat and cook 2–3 minutes or until onion is softened.
Pour tomato puree, pineapple juice, vinegar and soy sauce over meat and mix in well.
Add brown sugar and lemon peel and transfer to ovenproof casserole. Cook 1 ½ hours at 170°C, or until meat is tender. Stir once or twice to ensure meat is covered by liquid.
Place walnuts in pan and toast in oven while lamb is cooking, for 15–20 minutes. Serve on top of lamb.
Choose trimmed pork, lean beef and lean lamb cuts for lower fat content.
Sally-Ann